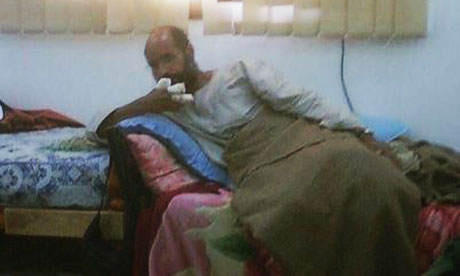 Saif al-Islam Gaddafi, the fugitive son of Libya's deceased former dictator, has been arrested in southern Libya, according to officials from the country's new government.
Libyan state TV reported that Saif has arrived in captivity and unhurt at an army base in the town of Zintan, 90 miles south-west of Tripoli.
Muammar Gaddafi's second and highest-profile son was captured along with several bodyguards by fighters near the town of Obari in Libya's southern desert, said the interim justice minister and other officials.
Saif was said to be in good health, according to the justice minister Mohammed al-Alagi.
"We have arrested Saif al-Islam Gaddafi in [the] Obari area," the minister told Reuters.
Saif was captured near the southern city of Sabha with two aides trying to smuggle him out to neighbouring Niger, militia commander Bashir al-Tayeleb said.
Zintan, a base for forces in the Nafusa Mountains which played a key part in the storming of Tripoli in the summer, is reported to have crowds dancing in the streets and waving the Libyan flag.
There are reports that an angry mob tried to storm the plane on which Saif was taken to the western mountain town of Zintan, the home of one of the largest revolutionary brigades in Libya.
Gunfire is echoing across the capital, Tripoli, where large crowds have gathered in Martyrs' Square firing volleys of automatic fire in the air. "A great day, a great day," said Abdullah, a taxi driver, stuck in one of the traffic jams that built up around the square.
A Reuters reporter said a man who appeared to be Saif, but who refused to confirm his identity, was on a plane flown by militiamen to the town.
The man wore traditional robes with a scarf pulled over his face, but his features, visible despite a heavy black beard, as well as his rimless spectacles, conformed to pictures of the 39-year-old younger Gaddafi.
The man's thumb, index finger and another finger were heavily bandaged.
Libyan TV also showed him He is sitting by a bed and holding up three bandaged fingers as a guard looks on.